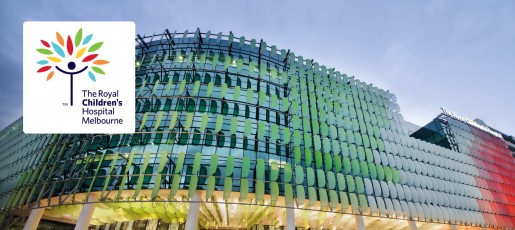 The Royal Children's Hospital's (RCH) vision is to be a great children's hospital – delivering Great Care, Everywhere.
RCH is located within the Melbourne Biomedical Precinct, with more than 45 world-class biomedical organisations and more than 50,000 of the brightest minds working together to make the Precinct number one in the Asia Pacific region for health, education, research, and training. Within this, RCH is also a cornerstone member of the Melbourne Children's Campus, partnering with Murdoch Children's Research Institute, The University of Melbourne Department of Paediatrics and The Royal Children's Hospital Foundation. Each organisation contributes to a paediatric academic health centre which is greater than the sum of its parts.
RCH has cared for the children and young people of Victoria for more than 150 years since it was founded in 1870. A full range of paediatric and adolescent health services are provided plus tertiary and quaternary care for the most critically ill and medically complex patients in Victoria. Tasmania, southern NSW and other states around Australia and overseas. The RCH is the only provider of heart transplant services and CAR T-cell therapy for paediatrics in Australia. RCH is an effective advocate for patients and their families with a particular focus on vulnerable children and increasingly, mental health in young people. The hospital also supports many health promotion and prevention programs. The Hospital has more than 6,000 staff, a budget of $850M, 12 wards and 350 beds. Annually, the RCH has 300,000+ Specialist Clinic appointments, 90,000+ Emergency Department presentations and 20,000 elective surgeries.
We work collaboratively with hospitals to deliver the right care, in the right place, at the right time. The RCH is committed to the Child Safe Standards: http://www.rch.org.au/quality/child-safety/
RCH enjoys high employee engagement and is committed to staff safety and a positive culture through enactment of our Compact.
Further information about RCH is available at www.rch.org.au
The position:
The Royal Children's Hospital (RCH) is recruiting for an experienced leader to manage the Gatehouse Centre (Manager, Gatehouse Centre) either at 0.8 EFT or full-time.
The Gatehouse Centre is a sexual assault service and provides assessment, treatment and advocacy services for children and young people in the North and Western metropolitan areas of Melbourne, including the cities of Moreland and Hume and RCH inpatients and outpatients.
The service is comprised of two streams: treatment where sexual abuse is known or suspected to have happened, and where problems or harmful sexual behaviours are a concern. The service also provides outreach services and an education and training program.
This role is an opportunity to lead a high-functioning service with an expert team that delivers clinical services and to continue the development of excellent clinical, quality and research programs. The successful candidate will be able to demonstrate a strong proven background in strategical and operational leadership, preferably from a social worker or psychology background in either adult or pediatric setting, a good understanding of the service and political landscape, managing a wide range of stakeholders (internal and external) and a passion to advocate for vulnerable service users.
Essential requirements, you will have:
Relevant experience and deep knowledge of the field of treatment of sexual assault and sexually abusive behaviours.

Proven leadership and management skills of a diverse and demanding advocacy and clinical service.

Demonstrated management and supervision of staff with the demonstrated accountability of clinical practice, and quality programming.

Demonstrated understanding of the causes, consequences, and impact of sexual assault.

Previously created strategic plans that link to the organisation's strategic plan.

Demonstrated competence in the management of a budget and reporting.

Developed and maintained a high-quality clinical services with a research function.

Relevant tertiary qualifications.

Extensive experience of leadership and management in a complex environment.

Specialist knowledge and experience of children and young people who have been sexually abused and those displaying harmful sexual behaviours.

High level of competence and demonstrated experience in advocacy work including legislative and policy change

High level of interpersonal, communication, and written skills including experience in networking, negotiating, and working in strategic partnerships.
To view the position description, please click here
If you would like to discuss this position, please contact Bernadette O'Connor on 0402 962 488.
Why work at the RCH?
RCH is committed to a positive culture through enactment of our Compact. We offer the opportunity to work in world-class facilities, surrounded by Royal Park and only a short tram trip from the heart of Melbourne city.
We also offer discounted staff parking, salary packaging, and an award-winning health and wellbeing program.
The RCH is committed to a diverse and inclusive workforce. We encourage applications from Aboriginal and Torres Strait Islander people, people from culturally and/or linguistically diverse background, all members of the LGBTQI community and people with disabilities.
Are you ready to join our team?
Apply online by clicking "HERE"
Applications close 10 December 2021