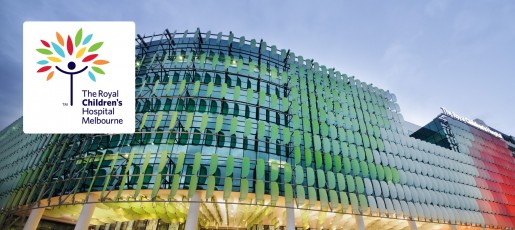 The Hospital:
The Royal Children's Hospital's (RCH) vision is to be a great children's hospital – delivering Great Care, Everywhere.
RCH is located within the Melbourne Biomedical Precinct, with more than 45 world-class biomedical organisations and more than 50,000 of the brightest minds working together to make the Precinct number one in the Asia Pacific region for health, education, research, and training. Within this, RCH is also a cornerstone member of the Melbourne Children's Campus, partnering with Murdoch Children's Research Institute, The University of Melbourne Department of Paediatrics and The Royal Children's Hospital Foundation. Each organisation contributes to a paediatric academic health centre which is greater than the sum of its parts.
RCH has cared for the children and young people of Victoria for more than 150 years since it was founded in 1870. A full range of paediatric and adolescent health services are provided plus tertiary and quaternary care for the most critically ill and medically complex patients in Victoria. Tasmania, southern NSW and other states around Australia and overseas. The RCH is the only provider of heart transplant services and CAR T-cell therapy for paediatrics in Australia. RCH is an effective advocate for patients and their families with a particular focus on vulnerable children and increasingly, mental health in young people. The hospital also supports many health promotion and prevention programs. The Hospital has more than 6,000 staff, a budget of $850M, 12 wards and 350 beds. Annually, the RCH has 300,000+ Specialist Clinic appointments, 90,000+ Emergency Department presentations and 20,000 elective surgeries.
We work collaboratively with hospitals to deliver the right care, in the right place, at the right time. The RCH is committed to the Child Safe Standards: http://www.rch.org.au/quality/child-safety/
RCH enjoys high employee engagement and is committed to staff safety and a positive culture through enactment of our Compact.
Further information about RCH is available at www.rch.org.au
Social Worker Grade 2
Full time or part time, fixed term Grade 2 social work role working within the RCH Social Work team
Exciting opportunity to join a supportive and innovative multi-disciplinary team.
Experience working in a collaborative environment that values the skills and interests of all team members.
The Role:
An opportunity exists for an experienced clinical social worker role working within the RCH Social Work team and providing services to children and familiies with chronic and acute health conditions. .
The successful applicant will apply bring experience working with chronic illness, ability to effectively intervene with vulnerable children and their families, understanding of child protection systems, family violence, child development and mental health issues to enhance clinical care. The Social Worker is an integral member of the wider multidisciplinary team.
This is a full time fixed term position. Clinical experience in hospital social work, paediatrics or a child and family social work is essential - at least 3 years experience preferred.
APPLY NOW! Applications reviewed on arrival, don't delay your application.
To be successful in this role you will have:
Eligibility for membership of AASW and meet AASW CPE accreditation standards
Clinical experience recognised in closely related field of practice
Excellent interpersonal, communication and presentation skills
Demonstrated ability to work in a multidisciplinary team and effectively articulate the social work role
A strong understanding of community resources and legislation relevant to children and families
A current driver's licence

This position also includes some out of hours work in the on-call after hours social work service to the hospital.
To view the Position Description, please click here.
What we can offer
Excellent professional development opportunities within a dynamic and supportive Social Work service
A role where you can apply your clinical social work skills to improve health outcomes for children of all ages and their families
An opportunity to combine your passion and expertise to take the next step in your career.
Why work at the RCH?
RCH is committed to a positive culture through enactment of our Compact. We offer the opportunity to work in world-class facilities, surrounded by Royal Park and only a short tram trip from the heart of Melbourne city.
We also offer discounted staff parking, salary packaging, and an award-winning health and wellbeing program.
The RCH is committed to a diverse and inclusive workforce. We encourage applications from Aboriginal and Torres Strait Islander people, people from culturally and/or linguistically diverse background, all members of the LGBTQI community and people with disability.